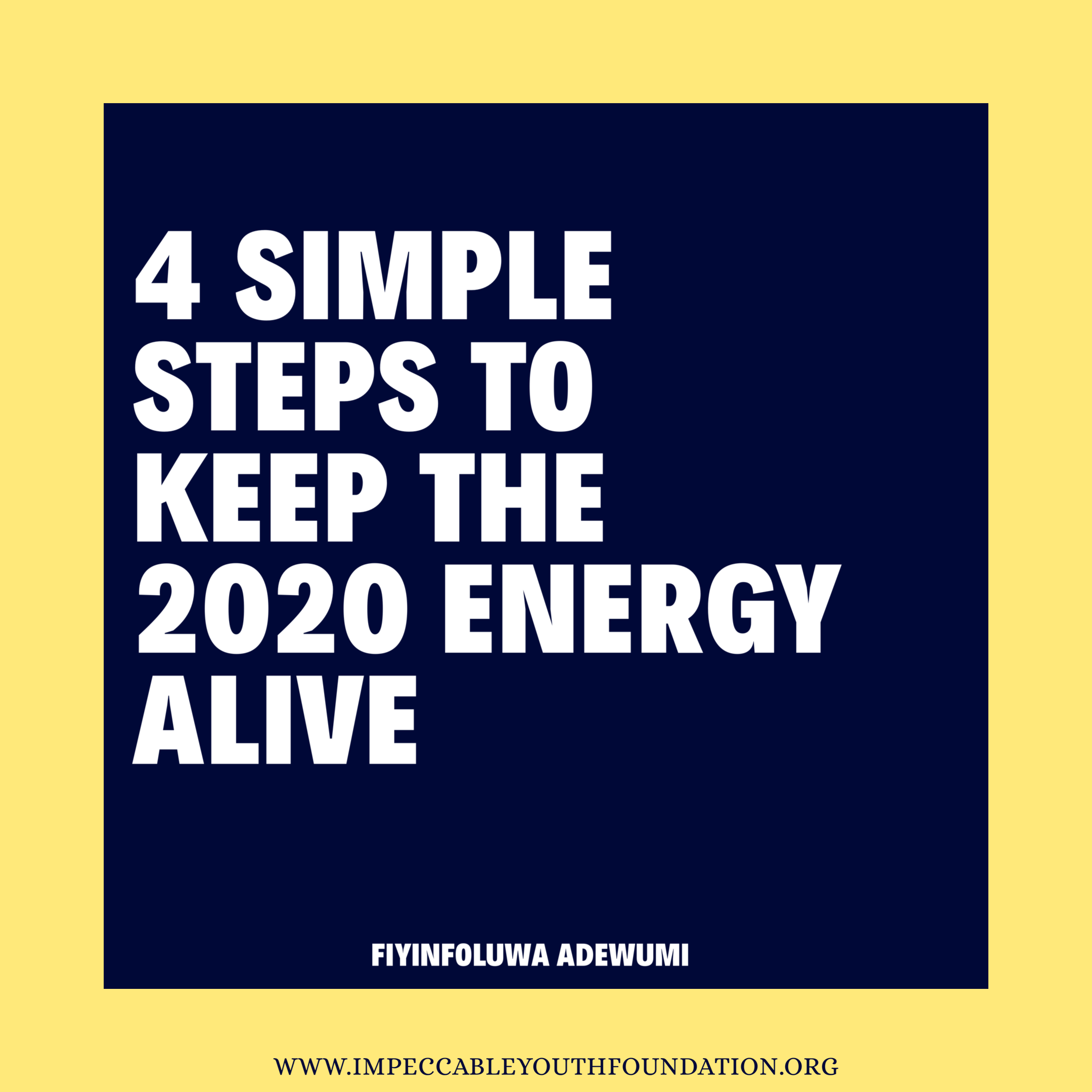 4 Simple Habits to Keep the 2020 Energy Alive
Vision 2020! – You sure must have heard or even said this at one point or the other. Guess what, this is THE year 2020! 
Growing up, even till a couple of years back, I dreamt of 2020 to be that golden year of my life when I'd be CEO of my company, be married and live like a "big man"?. Well, let's just say I had a slight change of mind some years ago?.
However, like many other people, I still have this sweet good feeling about 2020. Plus, it's arguably the most anticipated year of the last decade, right? While this good feeling many people have about the year might be helpful, it certainly won't be enough charm to make 2020 into the BIG year we all want it to be.  
So whether you already feel "20 over 20 " good about the year, or you've not had any good feeling about it yet, or on the other hand- the year has been really bad for you so far, I'm happy you're reading this article at this time and I want you to know that there is still hope. 
In this article, I would be sharing a few habits you could cultivate that would not only make a difference in how you live every day but also significantly impact your success for the better.
1. Set goals and be realistic about them.
Just imagine for a minute that your favourite football club was playing a match and there was no goal post on the field. Lol. Funny right? Yeah. It doesn't matter how well your team plays the ball, they would never make a goal! That's what it's like when you live every day without a set goal.
It is therefore fundamentally important that you are setting realistic goals that are time-based and measurable. But most importantly, ensure they are meaningful goals that truly matter to the purpose you are meant to live for, so you don't go about succeeding at everything else apart from the thing that really matters. If you don't have any clearly written goals yet, I would like to encourage you to do so today, and if you do already, congratulations!
2. Be a Daily Person 
It's not just enough to set big and realistic goals. It is also very important to clearly outline your daily routine and ensure they are consistent with your big goals. Just like completing a degree or building a house,  anything worth doing would take time. Many people who kick off inspired by the big goals they have set, fail to accomplish them, not because they didn't mean them in the first place, but because they failed to break them down into smaller goals that they can implement in their routine. 
It's better to break down huge goals into smaller "milestone" goals so that you can not only track your progress but stay motivated throughout the journey.
The small steps you take daily; adding those little building blocks one at a time would eventually result in the huge structure you want to see in the end. So by all means, set smaller goals on the way to the big goal.
3. Focus on your inputs
Many people get overwhelmed too quickly and give up on their set goals when it seems like their efforts aren't yielding much. They fail to take a sitdown to re-evaluate their moves and possibly rework their strategies. In reality, things are hardly ever as straightforward as they seem in the beginning, and those who want to reach their destination with their heads up must not only be proactive, but willing to take bold turns in the direction of their goals.
Your clearly laid out career or business plan might turn out to be less than feasible in the face of some new development later in the year. At such point, do you take a bow out of the show? No, you don't. You have a sitdown to seek relevant insights that would enable you to navigate that phase. Cause there is always a way somewhere, you just have to find it. 
When you choose not to worry about the things you can't control and consciously focus on your inputs; your actions and reactions, you make your output more predictable. And when these inputs are consistently and rightly made, your outcome will be just great!
4. Stay accountable
Regardless of how determined you are right now or how strategic your plans are, you would sooner or later experience downtimes when you wouldn't feel like doing the things you ought to do. 
It is therefore wise to stay accountable by letting someone who shares the same values as you and believes in the goals you're trying to accomplish to have a level of oversight over your activities. I say "objective" because you wouldn't always see how you play on the field, and you would need to have people around who will not only look you in the face and tell you when you're messing up but also support you in making amends for the better.
This is by no means an exhaustive list, but I truly believe that they could enable you to live and flourish better this year as they are already helping me to.
In conclusion, keep in mind that just like every habit- you may not  "feel it" or seem to get it fully in the beginning, and you may feel like resulting to 'the way it used to be' which was less than expedient. It is at such points, that you need to stay accountable more than ever and revisit your why. By so doing, you'd be systematically setting yourself up for the successful 2020 you so desire! 
@FiyinAdewumi