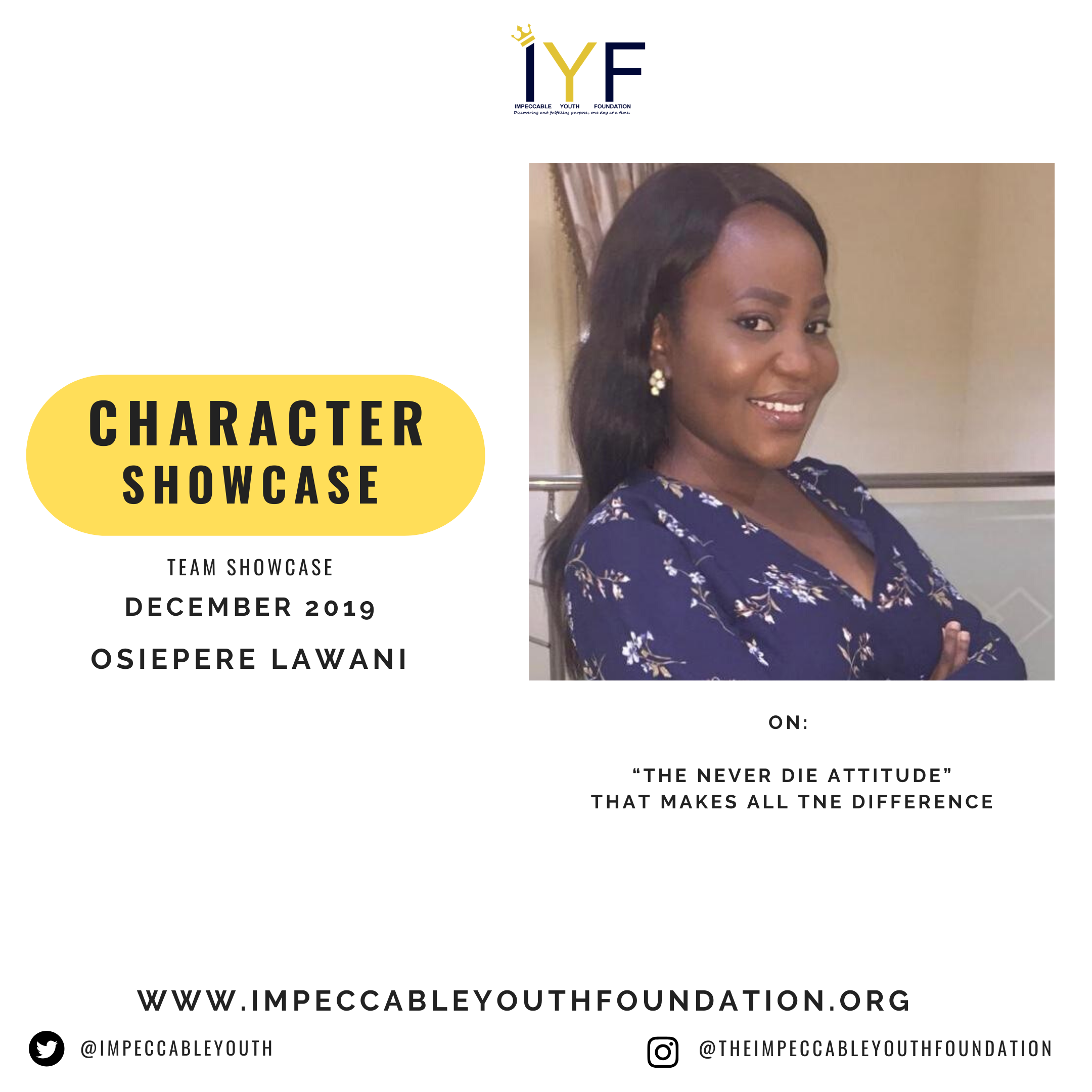 IYF (TEAM) CHARACTER SHOWCASE DECEMBER 2019 – OSIEPERE LAWANI
– Tell us about yourself?
I am Osiepere Lawani. I will describe myself as very sweet, yet fierce. My interests range from everything thing finance and management related to interior design and people. I am passionate about personal development, empowering others in whatever way I can and service.
If I may add as well, my academic background is in Accounting and Financial management.
-You mentioned you would consider yourself 'fierce' what is it that makes you choose that word?
I believe my fierceness comes from my relentlessness. I can be brutally aggressive (for lack of a better word lol) with my actions especially when it relates to reaching my goals. I did not realise on time that was what it was. Initially I just thought I was annoying and will try hard to psych myself out of whatever it was I desired or was aiming at especially when obstacles arose but then that only led to unsettled thoughts and feeling unsatisfied.

– So how do you handle challenges/ obstacles in achieving your goals?
First of, there is no journey that comes without a challenge or if you want to call it, an obstacle. But what I also know is that there is no challenge that cannot be overcome (don't even mean to take y'all to church but for real loool). That's one. Secondly, I think the importance of the goal to the individual is key. How will achieving it affect you? On a priority scale where does it sit? How dependent are your other goals on it? I think once a bit of clarity is gotten regarding these it becomes worth persevering for.
Finally and more importantly, I would say God. I am a Christian and my faith is a very important part of who I am. I try to be conscious to pray about ideas before going through with them and when I feel stuck I go back to the place of prayer which is where I find my strength and the grace to progress. Trust me, we do not have enough time for me to share but I have had a few experiences where I felt like giving up, but for the vision and honestly the grace of God. Gloryyy!? ?.
So it is, understand that challenges are part of the journey, then assess what the goal means to you and never forget (if you believe) to keep God in the loop. He will direct you.
– What lead you into volunteering and how has volunteering with the IYF in particular impacted you?
As I earlier mentioned, service is something that is dear to my heart. As much as possible I seek out opportunities to serve in whatever capacity I can. In particular volunteering with the IYF stemmed from a place of purpose. I just knew it was something I was meant to do, I knew it was the preparation I needed for the other roles I would be called into in the future, the mission of the IYF was in alignment with my interests and passions so it was easy for me to decide that I wanted to be a part of it.
Regarding the impact it has had on me, the big one I will say is accountability. From little things like planning schedules and content. If these tasks are not carried out rightly and on time, it creates loop holes in the processes which can then be traced back to me as the content lead because it is expected that I remain on top of these activities. That in its own way keeps me on my toes knowing my actions impact on the progress of the foundation and in turn achieving its mission.
In addition, volunteering with the IYF has made me more open to sharing my opinions and listening to others. I usually do not do well with unsolicited opinions and so I can be overly conscious to not render any. But being and working in a team has further taught me the importance of bringing together reasonable opinions and making decisions from them and honestly improved my team working skills. Could also add that it's played a bit of a confidence booster as well.
– Any advice for individuals struggling with reaching their goals and for individuals who are considering volunteering?
Firstly, have a clear vision of what you want and keep going after it. It's okay to take a break to reassess, rethink your why and then continue but do not give up. Also, always remember that there is a time and season for everything, in the same way are different individuals times different so do not get lost in comparison. Regarding volunteering, my advice is to go for it. Volunteering truly can be the platform you might need before stepping into your big role. Take it as an opportunity to serve and serve right, enjoy it while it lasts. Lastly, understand your role and always ensure you are carrying out the task assigned to you.
Contact Osiepere Lawani: 
Instagram – @osieperee
Email – lawaniosiepere@gmail.com