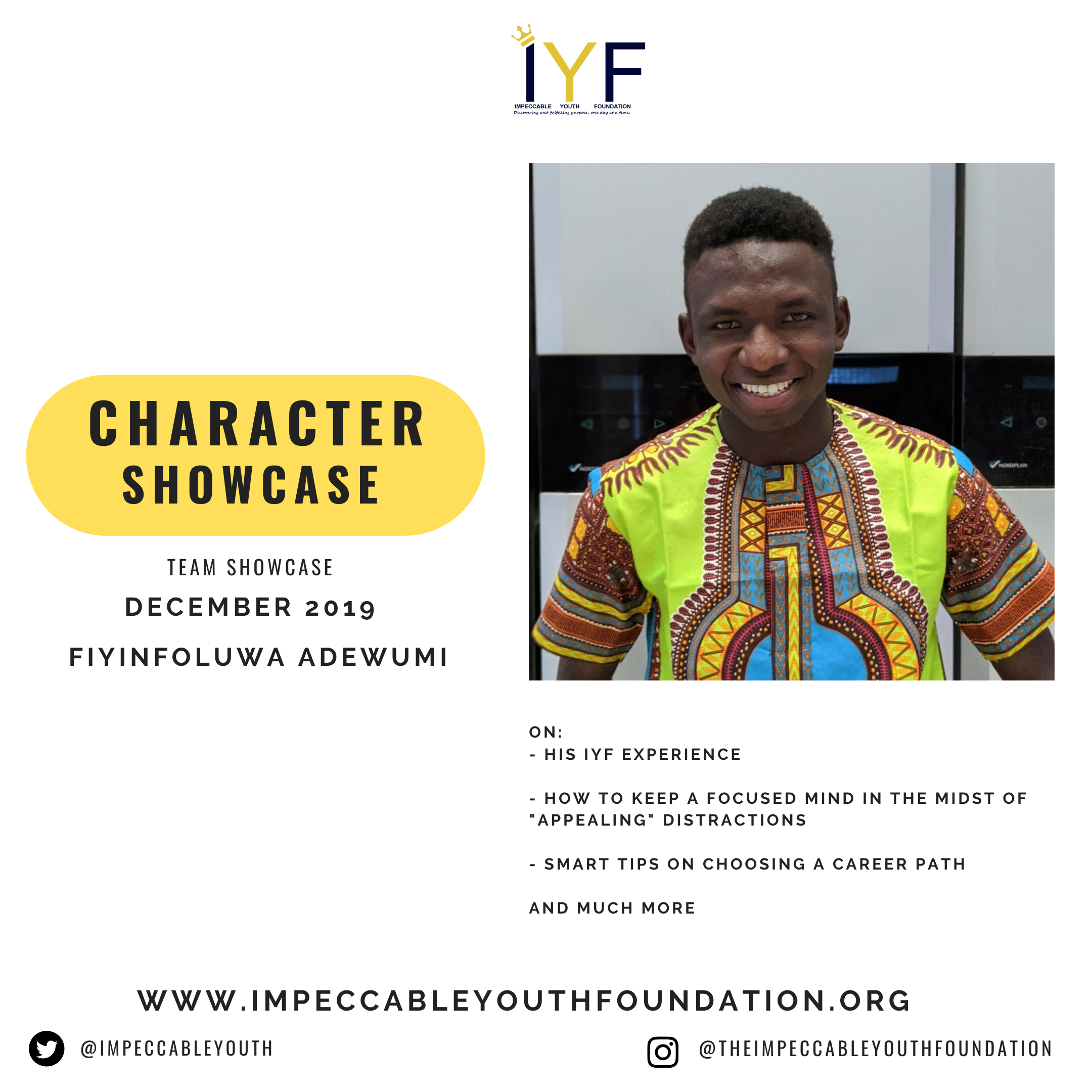 IYF (TEAM) CHARACTER SHOWCASE DECEMBER 2019 – FIYINFOLUWA ADEWUMI
– Tell me about yourself? 
My name is Fiyinfoluwa Adewumi, I am a believer who loves people and enjoys talking as much as I do listening. I look forward to every chance I could have/create, to impact people for the better. 
Also, I have some really cool dance moves (in my mind) and I make very delicious beans porridge most times?
– What is your Educational/Career interest?
Well, my educational and career interests have not been in the same boat until about two years ago- during the first semester of my final year as an undergraduate student of Physics at the University of Agriculture Makurdi, when I decided that I was going to build a career in Human Resources. And because I knew I wasn't going to play small from that point, it was imperative that my educational involvement was contributing to my career growth.
So, right now, I can very boldly say that I am an emerging Human Resources professional!
– Interesting, would you like to elaborate a bit on why you made a career change in your final year?
Oh.. hold on, I actually completed my undergraduate studies in physics. It wasn't the easiest thing to do, but thankfully, I had the support of amazing friends and family who encouraged me to keep on, and I eventually graduated with a second class upper.
So, to answer the question of "why…", I was honestly never really into Physics. Though I started out with a first-class GPA and had it in mind to further in Computational physics or plasma physics, I felt more drawn towards areas involving people and management, so I made up mind I wasn't going to restrain myself from doing any good that I possibly could in those areas. This led me into Press and Publicity and a number of other functions at my school fellowship, including an opportunity to manage a business part-time. It was during this role, as the Chairman of a business committee that the dots joined together and I knew for sure that I wanted to pursue a career in Human Resources.
– Why and when did you choose to be a part of the IYF?
My first encounter with the IYF was at a point in my life when the whole idea of purpose and reaching out was really strong on my mind (it still is!). On a Thursday morning sometime in October 2018, I was once again searching for an organization with a focus on youth to work with when I saw a tweet by someone on my Twitter TL. It was about the IYF… I went to the website, and I just couldn't keep calm!
The communication on purpose resonated very strongly within me and I knew I needed to be a part. I immediately sent a message via the contact form and here we are! 
My understanding of purpose and assignment has become a lot clearer over the past year, and I am more energized to be a blessing to more people via this platform.
Also, working with the team-consisting of people with diverse perspectives who are yet like-minded, has just been absolutely interesting. 
There have been times when other concerns demanded more time from me, so much that I couldn't give my best. But at the IYF, we understand that we all may not be fully hands on every occasion, and we try as much as possible to communicate and make allowance for that, such that one team member can easily cover for the other.

– How do you think young people can best keep a focused mind in this age of numerous distractions?
Truth be told, keeping a focused mind in the midst of the many "appealing" distractions we have today is not a simple task. Thanks to social networks, and other media- there's always something buzzing. 
If it isn't some new trend, it's going to be another gig everyone wants to get involved in. 
There's almost always something appealing which eventually gets a lot of people of their lane and away from their business. And they may not necessarily be bad to be distracting, they might just be in the opposite direction you should be taking. 
While we all can agree that living a focused life is not an easy job to do, it's definitely a possible one!
That being said, I truly believe the best way to keep a focused mind in the midst of distractions is to live everyday with the consciousness of purpose.
Yeah, I know this may sound cliche, but it is in many ways, the simplest hack to keeping clear focus. If you can make small daily decisions to focus on your business as much as possible, you would have little time for distractions. And it begins from simple things like, carefully selecting who and who not to follow on social media. This may sound too radical, but this can really save you plenty of unprofitable scrolling and viewing. 
I don't consider myself as one who has perfected the art of focus. I am yet a learner, and I believe that we all have the free right to determine our focus, and by extension our success, by simply defining our daily activities based on purpose.
In conclusion, I believe recognising and acknowledging God's power through Christ to help you recenter and stay on course is really awesome. Cause at some point or the other, even the best of us could get off track and get caught up in the wrong. But knowing that there is always direction and help for us, even in our most vulnerable moments absolutely gives us the assurance that we would arrive our destination with our heads up.
– As an emerging HR professional, what advice would you give to people who are unsure about what career path to take? 
I could go on and on, but for now, let me say these in summary.
1. Focus on increasing your capacity to deliver value (especially in the areas where you're naturally good at). The more value you have to offer at any given point, the more reward you would earn.

2. Think long term, do your research then, make up your mind on something and insist on becoming very competent at it.
3. In all labour there is profit. Don't sit idle waiting for that dream job or that big break. Get doing something good!

– Any final words?
Life is a journey on purpose, not a competition with others. Do not be so fixated on "blowing" that you forget to grow. And this applies in pretty much every area of life. 
Give yourself time, grow. Develop! 
You'd be very happy you did in the future?

Contact: Fiyinfoluwa Adewumi
Instagram: @fiyinadewumi
Twitter: @FiyinAdewumi
Email: adewumifiyinfoluwa@gmail.com