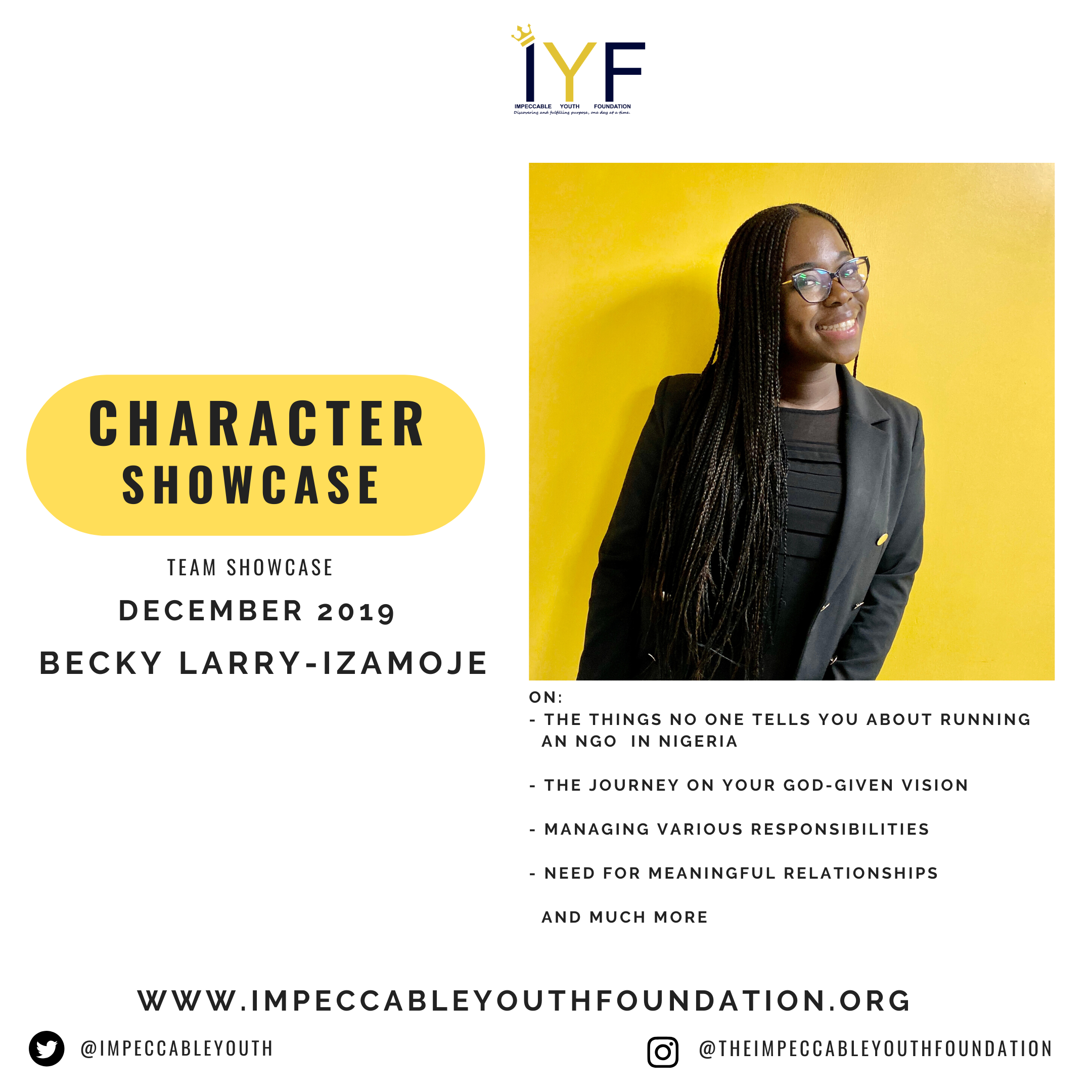 IYF (TEAM) CHARACTER SHOWCASE DECEMBER 2019 – BECKY LARRY-IZAMOJE
– Tell me about yourself ?
My name is Becky Larry-Izamoje. Light of the world and Lover of God, lover of art, fashion, family, good food, good sleep and having a good time!
– What is your Educational/Career interest ?
I completed my BSc in Business management and MSc in Marketing & Strategy from the University of Birmingham and Warwick Business School respectively. I also received a professional development certificate for Growth strategies and understanding Market trends from Harvard University. I now work as a Brand and Growth Strategist besides managing and running the IYF with my team. I am also a gospel recording artiste with 4 official singles and an official music video. I didn't add that in the question above! I find my expressions through Music.
– How was the vision for the Impeccable Youth Foundation born ?
So interesting how things happen.
A few days after my 17th birthday, I was praying in our home and God began to speak to me about a children and youth initiative. That was it. I held the vision for a long time, I felt I was not ready, felt inadequate, and guessed the processes were a lot. The more time passed, the greater the burden. I knew the vision had to be birthed. I thank God for making all things perfect in its time. I eventually registered IYF and we began fully functioning October 3, 2018.
– Did you face any challenges in the formation and how have you overcome/ how are you navigating them ?
I nearly touched on this in the last question. The challenges I face are both internal and external. I would break that down. A lot of times, I felt why would God lay such a huge vision on my heart. The vision of the IYF is not limited to a country. I stalled a lot before setting up the IYF because I could not come to think of how much I would have to invest. My time, my resources, my sleep, my conveniences, the list is endless. In hindsight, all I have, has actually been given to me by God – so it's not really mine. I'm simply a stewardess.
I thank God for sending people who motivate and show me that I am not by yourself. Time and time again, It was almost like I felt pregnant and I needed to give birth. I knew so strongly in my heart that I had to birth this vision and I should not allow this seed die.
Since it's formation, I've faced other challenges regarding access to funding, managing the team and being a leader as well as a team player. Managing my responsibilities has also been difficult to navigate. However, I've also come to the understanding that you do not need to be the most qualified for God to use for a purpose.
For example; The IYF strives in purpose, identify and non-conformity. I've gotten so stuck numerous times that I ask myself not only what the purpose of the IYF is, but what my purpose as Becky Larry-Izamoje is. The IYF has kept me up at night questioning my why. Why do I do what I do? What legacy do I want to leave for my children's children ? How am I working to leave the world a better place ?
For now, I am strategic with my goal setting, I use what I have learnt in my degrees, and how I can work alongside my God-given team executives to make these dreams a reality. I also know that time is critical, and nothing should rush its season, so I try to not put myself under pressure, I pat my back, dust my feet, and keep going one foot in front of the other. That's it.
– What is your advice for people getting started on their God-given vision ?
This is such an important question.
Firstly, be sure it is something God would want you to do. There is no need spending time on something God has not called you to do. Your real assignment is waiting for you.
Secondly, I would say spend some time 'envisioning' what this 'vision' looks like. What are your plans for this? What will the initial implementation plans be? Who is your target audience? What can you do with the resources you currently have? What steps would you put in place to acquire the others? This requires a lot of research – from prayer (to access direction),  studying and researching about your new sector or area, watching YouTube videos, watching the news, connecting with other like minded individuals or Organizations who are already in that field, and so much more. I've had to read more on social justice, the SDG's, legislations and policies and lots more. Zeal without Knowledge is fruitless. Study to show yourself approved.
Thirdly, I'd throw this question in there – You need to BELIEVE in yourself. You are enough. God sought you out and called you for such a time as this. There was a problem and He thought you to bring the solution – as His representative, ambassador and extension on this earth. It is in believing in yourself that you begin to put the necessary steps and plans in place. Believing in yourself and the vision within you is so vital.
Also, Please run. Rely on the giver of the vision, ask Him for wisdom and resources (human to capital) and don't sleep on it.
'How bad do YOU want to see this vision come to pass ?'
I asked the above question because, life, the people around you (to a large extent) and even yourself, will sometimes move you away from this vision. I have seen, and I know that God makes us answers to prayers we knew nothing about. Reminding yourself that you are a solution to a dire need, an answer to prayer and a tool used to change the narrative and impact society for the better, would keep you grounded. Yours might not be an NGO, yours might not be music, It might actually be; Nonetheless, Never forget your WHY.
Lastly, have friends/well wishers who would encourage you. Don't be too much in a hurry that you want to build alone. You need certain people to hold your hand up when the fight gets hard and when it takes too long. Pray continually for resources, and keep on doing the work. I wish I could elaborate on this but I guess we would elaborate on this more in the future.
In summary, plan, pray, surround yourself with the right people and get to work!
– Any closing words ?
The world we live in, and the society we have been placed in is full of vices, distractions and opportunities to pull you away from not delivering what God would want you to do especially in this time.
However, I challenge you after reading this to please take a deep breathe, ask the Holy Spirit to breathe on your journey and help you see how things align.
Ask Him to make you see what area you should bring solution to. Ask Him for an usual sense of willingness – that you say yes to allow Him lead you and guide you.
If you need to talk please send a Dm or email across to the IYF. Don't give up on your God-given vision because of what you can or cannot see now. Remember, we are storing up treasures for generations to come and you would never know the impact of just a little seed.
Finally, be patient with yourself – your MENTAL HEALTH is a priority. Take time out to rest and breathe. I am on this table I am shaking ?. I have had so many struggles with anxiety and borderline depression, as a result of undue pressure and unrealistic goal-setting. I have beat myself up for being unable to manage relationships or execute projects within a specified time. Please dear, it is all part of the package – no one just tells you about that, so take it from me. You are a solution to a problem but do not be consumed that you begin to lose yourself with the overwhelming thought of it. Have a healthy relationship with the burden – allow yourself grow, challenge yourself to learn from your mistakes and that of others. Collaborate! There are amazing people out there already doing similar things, reach out to them as the Spirit leads.
Don't live alone – No man is an island.
Lastly, you are unstoppable and nothing is impossible for you.
– How can people get involved with the IYF ?
Funding!
If you are led to give any amount – please see the PayPal details below or Please follow us on our social media platforms and send a dm! Every donation and mindful thought goes a very long way! Trust me. Please keep us in your prayers as well, for open doors, rain and favour.
We are also very open to partnerships and collaborations so please reach out !
Lastly, we would be seeking volunteers on some of our short term/long term projects – if you are able to volunteer in this capacity or would like to know more, please send a dm or an email to info@impeccableyouthfoundation.org
All the information you need to know about the IYF is available on our social media handles – and on our website (About us). http://www.impeccableyouthfoundation.org
Thank you for the honour and privilege of doing this. Please let me know if you want me to elaborate on any of the points above.
I'm very happy to arrange avenues to speak about these more sometime soon.
Blessings xxx
Contact Becky Larry-Izamoje
Instagram: @beckylarryizamoje
Twitter: @_blarry
Email: blizamoje@gmail.com
YouTube: Becky Larry-Izamoje
Website: Impeccableyouthfoundation.org