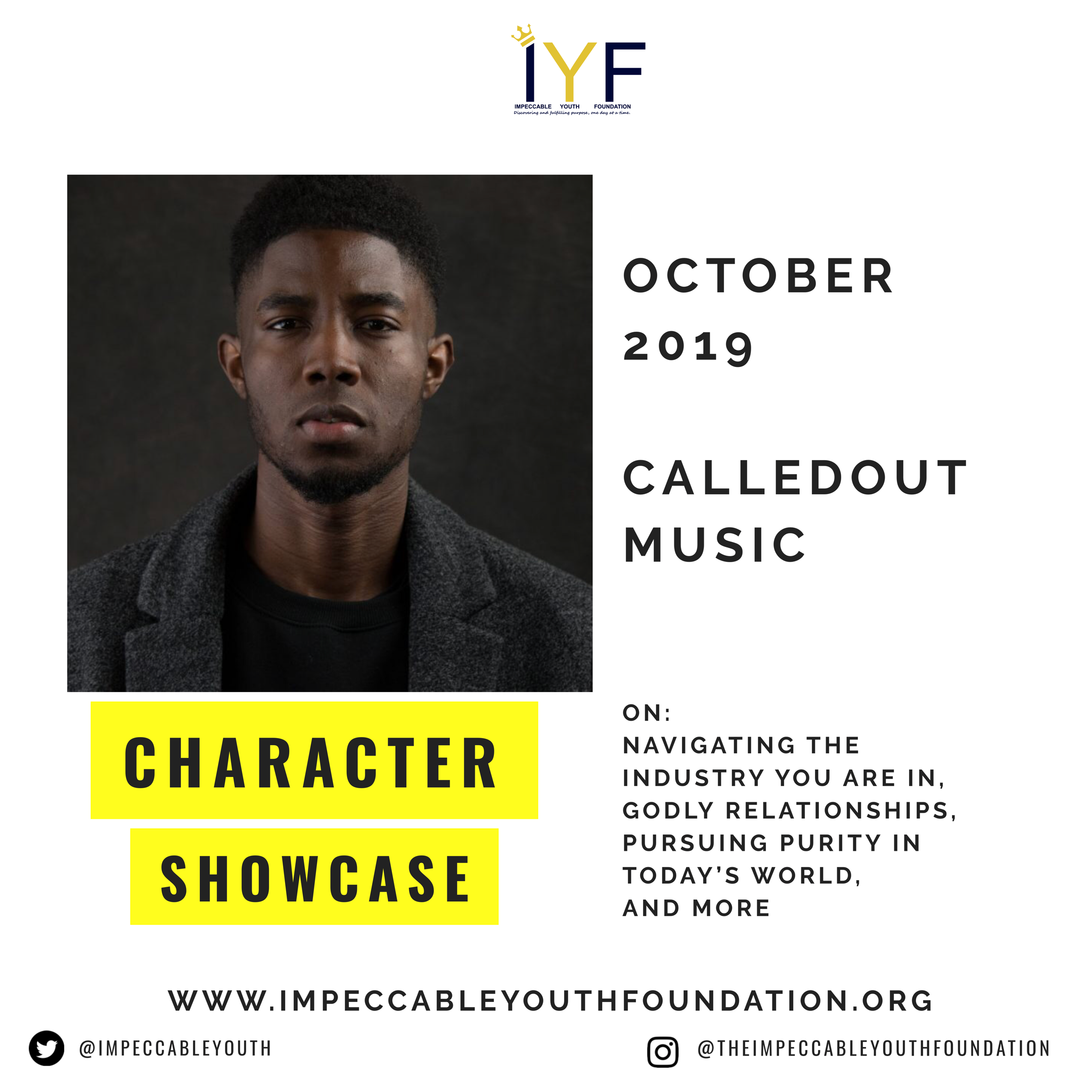 IYF CHARACTER SHOWCASE OCTOBER 2019 – CALLEDOUT MUSIC
– Tell us about Yourself ?
I'm Samuel Nwachukwu, born in Kaduna Nigeria, I moved to the U.K. when I was 12 with my family. Being from a Christian home, I got to know Jesus from a young age through playing and serving in church. Since then I knew I wanted my life to revolve around music in one way or another so after graduating with a finance degree, I decided to chase ministry full time. And that's what I'm doing now ?
– When did the CalledOut Journey start ?
It started officially on the 18th of April 2016. This was the day I first released music under this pseudonym. But the mind behind CalledOut began months before that during the period I was baptised. 1 Peter 2:9, a verse which I had read countless times before suddenly came alive to me.
– Where do you draw inspiration for your music from ?
From life and experiences too. My favourite time during church is testimony time. This is when I see Who God has been to others. We all go through different circumstances and it's great to have a God who can be all we need and what we need.
– How did you get acquainted with those around you who have helped you along the journey ?
God's plan lol. If God calls you, He makes room for you and part of that is bringing people around you who believe in the vision. I have had some informal networking, but generally having musical friends who have linked me with people has been pivotal in my career.
– In a harsh society such as today's, how do you remain focused on God ?
By setting time and making room for God. My perspective is that I NEED to stay focused to be alive. Yes having a relationship with God is not just great it's vital to stay sane in the world today – To stand out, To show love, to be all God has called you to be, we have to remain focused on God.
– Any word/tips for individuals starting out on their purpose journey ?
Go. You've found your purpose, just go. People will always tell you their opinions but if God has told You His fact then go ahead. He'll make room. He won't tell you to move if He didn't have it all figured out.
– Can you please leave some advice for young creatives & individuals finding it hard to navigate the industries they are in ?
Keep working on your product till you're the best you can possibly be and when you get there, keep on working. So many creatives go into the industries with raw talents and skills that haven't been refined. My big bro Pst. Temi from HOTR London said that the reason Tin tomatoes cost more than raw tomatoes is because it's been refined, boxed, packaged, processed – Worked on. So as creatives, the industry want the best. They don't care that you've only just started, it's either you're cutting it or you're not, so get practising, buy that software, learn that tutorial and with God on your side, you'll be super effective in the market place.
Contact CalledOutMusic: 
Instagram – @CalledOutMusic 
Twitter – @CalledOutMusic