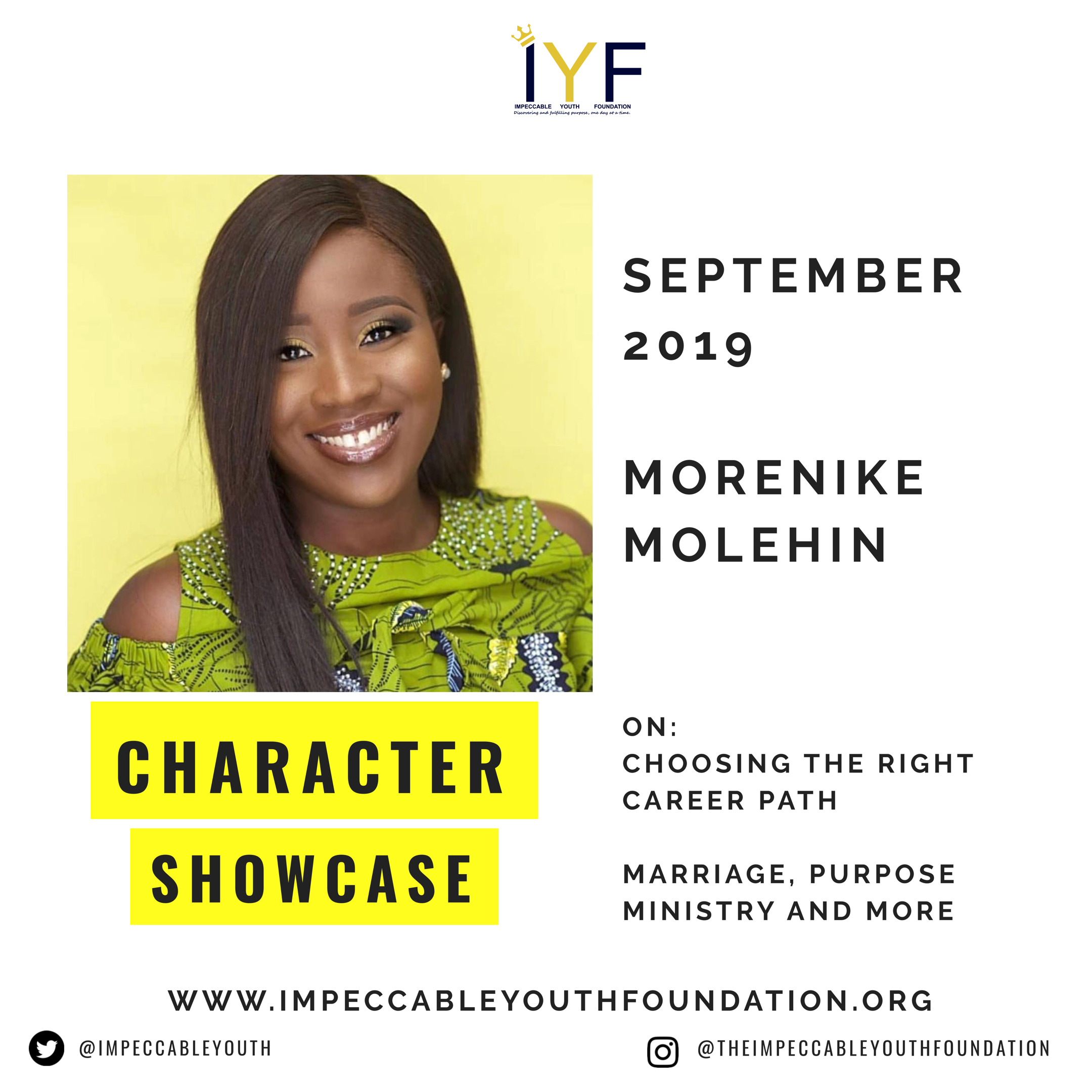 IYF CHARACTER SHOWCASE SEPTEMBER 2019 – MORENIKE MOLEHIN
– Please tell us about yourself
       I am Morenike Molehin, often called 'Renny'. I am married to Yomi Molehin, my pastor, best friend and mentor. I am also a mother to two beautiful girls. I am the Founder and Creative Director of Oak&Teak, a fast rising interior design and furniture manufacturing company which specializes in residential and commercial spaces. I am also the Managing Director (MD) of Newer Heights Ltd., an agro-allied company which specializes in the processing of soya bean seeds to poultry feeds and soya oil. As the MD, I oversee company-wide operations, financial administration and human resource management. Beyond business, I am also the Convener of "The Complete Woman Conference" in RCCG Eagles Nest. Recently, I commenced a free seminar titled "Design Through His Eyes" as inspired by God to help aspiring interior designers/decorators start and grow their business. I obtained a first degree in industrial mathematics from Covenant University and a second degree in Financial Mathematics and Computation from the University of Leicester United Kingdom. (Yes, I love Mathematics!). I love travelling, meeting new people and generally learning new things.
– What are the values/principles you live by and what is your greatest motivation?
Compassion, respect, integrity, diligence and excellence are what drives me as a person. They are my core values. My greatest motivation will be to help the less privileged and I plan to do this on a big scale. I want to build schools, hospitals, etc. This is my biggest motivation.
– How did you decide on the choice of career path to follow and how fulfilling has it been so far?
While growing up, my mum was an interior addict. She would always re-arrange the house, add or remove accessories at least every 2 weeks. Unknown to me she was depositing seeds of becoming an interior designer. Every time I entered a space, I realized I was either very happy or suddenly become moody just by how the space looked. I got married and decorated my house.Everyone that came to my house loved and complimented how our house looked. My husband, who is my greatest fan and supporter then began to advice me to start but I didn't think it was a good idea at the time. Later I began to see the need for everyone to live in a beautiful space and how important it was. I know that not everyone can be my client but I would want to be able to contribute my quota to seeing as many people as possibleliving in comfortable living spaces.
It hasn't been an easy ride, but I find so much fulfilment in this career path. It gives me joy and inspires me to achieve greater things.
– As a wife and a mum, how have you been able to manage family alongside entrepreneurship and ministry?
Irrespective of one's gender, being an entrepreneur comes with its benefits and challenges. As a female entrepreneur, I believe I am advantaged because of the way God has designed us. We can rise to the challenge of multitasking and this is amazing especially because the responsibility of managing a family cannot be neglected for managing one's business. But in all honesty, I believe that whether you are male or female, if you are passionate about what you do, sooner or later you will stand out. One of the things that has helped me as a wife and mum is delegating and not been ashamed to ask for help when needed. Both in my company and in the ministry. I am also blessed to have a very supportive spouse.
– Can you please share some advise with younger adults particularly those finding it hard deciding what career path they would like to pursue ?
Firstly, I would say be true to yourself. Secondly, I would ask what does success mean to you? This has a role to play in choosing a career path. Thirdly, what makes you happy or what upsets you about a situation? Businesses are born out of a place of being excited doing something or from a place of pain knowing you can fix that problem. We also need to ask trusted people around us and ask what they think we are good at. These are just very few points in determining your career path but most importantly asking The Holy Spirit to show us what exactly we should be doing. That is the greatest advice on choosing a career path.
Contact Morenike Molehin:
Instagram: @morenikemolehin