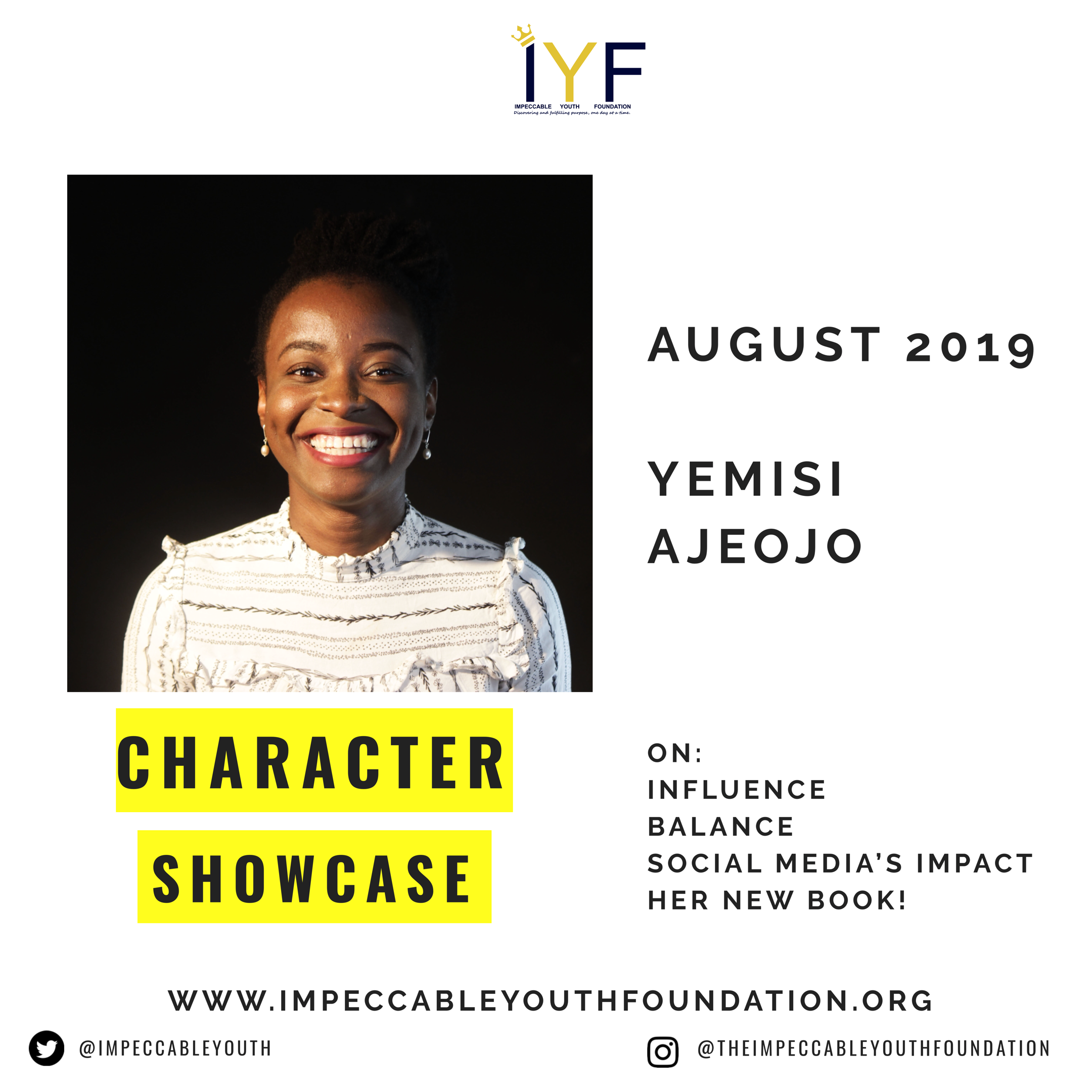 IYF CHARACTER SHOWCASE AUGUST 2019 – YEMISI AJEOJO
Tell us about yourself:
My name is Yemisi Ajeojo,  author of 'Social Media is your new CV',  a book where I shared how I have gotten amazing opportunities from social media and how anyone can position themselves online for amazing opportunities. From what to share, how to connect with the right people to how to use Linkedin, the book covers it all.

I am also the co-founder of Triift Africa, a social enterprise that provides easier access to low interest loans and helps aspiring growing business owners understand business finance, create wealth and scale.
In addition, I am one of the leaders of Ilorin Digital, and currently, we are working towards relaunching as Cirkle Labs – A digital social enterprise Leveraging on community and collaboration to influence education, enterprise and employment at the grass root level with digital tools.
I have also worked with both the private and public in both Nigeria and the UK in roles that cut across innovation, community development, project management, economic development, governance, strategic leadership and business development. At the heart of it, I am passionate about making social impact- influencing people and systems, community development, business growth and ecosystems.
We see you recently launched a book, what was your inspiration for it? 
I will always remember moving back to Nigeria in 2017 filled with a lot of uncertainties because almost everyone that heard that I was coming back had made sure to remind me of the unemployment statistics in Nigeria.
So, imagine my surprise when I got over 5 job offers in less than 2 weeks from people that I had met on social media. In addition to job offers, I have gone on to receive an invitation to speak at Tedx, speak at other amazing events and even access sponsorships for some of the community projects  I have done from people I only met on social media. I wrote this book to share what I did right, with other young people.
Majority of young people are on social media, and these platforms provide access to a  lot of opportunities and that is why I wrote this book.

I shared not just my story, but the story of other amazing people I know who have gotten job opportunities and even scholarships just by connecting with the right people  the right way and sharing the right content online. In my book, I have shared how anyone can achieve this too.
From how to set up a profile that stands out, to how to network correctly on social media and even how to use and get results from LinkedIn, this book covers it all.
How do you feel social media has changed/affected youths in our time?
It is really great because it has provided vast borderless opportunities both to share and to connect with people. However, everything that is good will have its bad part. So, while we have access to this amazing tool, it is important that we are very cautious, intentional and strategic about how we use it. 
How do you balance your social media and still not lose your fun self? 
Hmmm I think that the Yemisi Ajeojo you will meet on social media is not very different from the person you will meet offline.

However, I have learnt to be  very intentional about building  offline relationships while building online ones and also ensuring that the content I am sharing online is not something I will regret in the near future.

Social media also gives you a very wide reach, and as the light of the world that I am, it is very important to me that I am able to use these platforms to shine my light.
What are your values, your drive and your greatest motivation?
I am really result driven and passionate about making social impact.

The poverty rate in Nigeria is very alarming . Everytime I watch the news, it is like a big weight has been put on my shoulders and I am staring at a ticking time bomb that will affect me and generations to come if I do not put my own effort towards addressing it. So whether it is creating easier access to micro loans for small businesses, teaching on finance to create profitable and sustainable businesses or training on how to use digital tools to scale a business or access the global job market, the key for me is to do my own bit to alleviate poverty and enable more people to access better opportunities for growth. 
What advice do you have to share?
I think I am going to share an advice specifically to people in their twenties. I have had a lot of people come to me to talk about how they are not sure of what to do next.

Something I always say is to consider what is your hands. Remove your gaze from what is going in other people's life, and consider the options you have before you. It may not be as glamorous as other people's option but it is worth considering.

Which one makes the most practical sense? How can you continue learning? How can you continuously stay productively engaged? How can you continuously make the most of the resources and privileges you have.  These are the major things you can focus on in your twenties.
How can people access your book and connect with you?
You can get my book here bit.ly/smnewcv . Do not forget to engage with me online 

Engage with me on social media
facebook.com/yemisiajeojo
twitter.com/yemisi_ajeojo
Instagram.com/yemisi_ajeojo